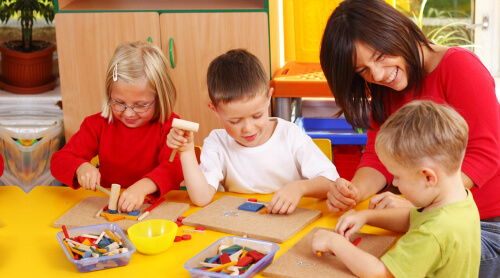 Every child's encounter and experience presents an opportunity for learning. Young kids learn from what they see, smell, taste, feel, and hear. They will gain a lot from going to our Preschool in Virginia as they are exposed to numbers, shapes, and letters. More importantly, preschool helps them develop their emotional and social skills, as well as lets them learn how to get along with other kids. Below are the benefits of preschool for children:
Offers a Foundation for Academic and Social Learning
Early Steps Bilingual Preschool prepares kids for the academic demand of higher education levels. We allow them to take part in various activities and games that can help them acquire important social and academic skills. Our preschool environment allows them to listen to others, make friends, express their own ideas, take responsibility, cooperate, and share.

Helps Improve Their Attention Span
Kids are curious and like to discover new things. Our high-quality early childhood program gives children maximum opportunities for discovery while maintaining a balance with their ability to listen, take part in group tasks, work independently, and follow instructions. This helps them develop their skill to concentrate.

Helps Kids Improve Their Sense of Self-Worth and Competence
Our preschool teaches kids to take care of themselves and others. We provide kids with opportunities to help out in the classroom. Also, our teachers encourage them to view themselves as a valuable resource for other kids. Our quality preschool program introduces kids to the behaviors necessary to successfully function in a kindergarten classroom.

Promotes Cognitive and Language Skills
Our preschool promotes a language-rich environment to nurture the language skills of young kids. To help young children expand their language skills, our teachers may ask thought-provoking questions and introduce new vocabulary. In our preschool, kids are given plenty of chances to talk, sing, act out, and read aloud. To strengthen their cognitive skills, they engage in a range of hands-on activities that challenge them to make close observations, ask questions, and solve problems.

Nurtures Children's Curiosity
Our preschool teachers make use of the ideas and interests of children to create activities. They are aware that children don't know the line between fantasy and reality. Our teachers let kids take part in imaginary plays that include the use of costumes and age-appropriate props. Usually, this activity allows them to progress from solitary plays to one-on-one, too difficult group plays.

Helps Develop Their Motor Skills
Preschool kids will experience an improved physical coordination that lets them explore their environment. Our High-Quality Early Childhood Education Program offers many daily opportunities for kids to engage in physical activities. It provides activities that help kids develop their fine motor skills, as well as improve their balance and hand-eye coordination.
High-quality early childhood education can help set your little one to succeed academically, emotionally, and socially in the future. To learn more about our preschool program, please visit www.earlystepsbilingualpreschool.org.