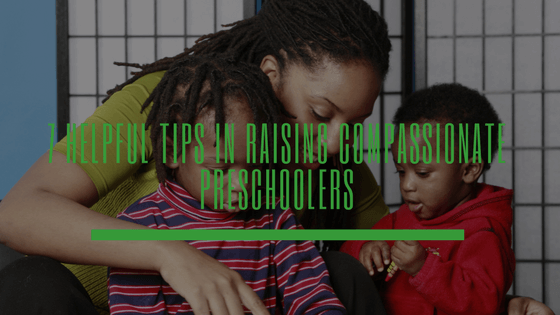 One of Greece's greatest, in the person of Aristotle, once said, "Good habits formed at youth make all the difference." Your child is a box-full of potentials. If opened carefully, all his potentials will come to fruition. As parents, you should always be there to provide guidance and support for your child. The best way to lead your child to the right path is to teach them the right attitude.
But of the many attitudes that exist, which one should you prioritize to instill? Early Steps Bilingual Preschool suggests training your child to become compassionate. Being compassionate allows them to appreciate humanity more. Consequently, a child may become caring, responsible, and honest.
Want to know the best ways to raise compassionate children? These tips may help you:
Instill compassion.
You reap what you sow. If you treat your child with compassion all the time, it is likely that they will grow up as a compassionate person. In disciplining them, choose pampering means instead of traumatic ones. Experts have found that the former is more effective.
Choose your words carefully.
As much as possible, avoid profanity. Words are sensitive tools that critically affect a child's mentality. Using decent words is a sign of respect. Reciprocate respect. If they feel valued, they will learn how to respect others.
Uphold the importance of rules.
Provide limitations and sanctions. If they commit mistakes, implement the necessary penalties. Compassion is about knowing what is right and wrong.
Give merit to good deeds.
Inspire your child to do more by commending their behavior. No deed is too big or too small so long as it is done for the betterment of their self and others. Never let a good deed be left unrecognized.
Encourage kindness.
If Mark Twain would put it, "Kindness is the language which the deaf can hear and the blind can see." Compassion starts with a single act of kindness. Make them understand this value and being compassionate will become natural to them.
Be a role model.
To the eyes of a child, what adults do is right. Nothing escapes their sharp and perusing minds. Show them how to act properly. If you show them that you are a compassionate person, they will follow.
Teach them to be appreciative.
Saying "thank you" or "great job" can send positive feelings to children. Being compassionate is not just about showing how much you care, but it is also about expressing appreciation. Being appreciated makes them feel important and helps them learn to value their self and others as well.
Looking for a Preschool in Virginia that is able to cater your child's multifaceted needs? Allow Early Steps Bilingual Preschool to pave a path for a brighter future! Visit our website at www.earlystepsbilingualpreschool.org for more information.
We pledge for High-Quality Early Childhood Education Programs! Enroll your children to our school today!